Instagram Verification
Really, Instagram Verification is a must?
I am sure, most of the newcomers on Social Media Marketing might not know about Instagram Verification.
In the recent emails which I have received people are asking how an Instagram account can be verified.
So, this time I have decided to publish this blog post, to understand how do we get verified?
There is no doubt that a large number of followers always helps in getting verified. So, be very sure to check out this blog post on Easy way to increase real Instagram followers.
When it comes to Social Media Marketing, you have to manage social media accounts for the growth of your business.
The research, scheduling and posting on social media can be seemed as tedious and boring.
You have to understand that the logistical, as well as the management steps behind the funny posts, are basically the key components.
The steps are taken to promote your business and to build a strong online presence which in turn will ultimately lead to more interaction with your audience.
Well, out of these steps or ways that make the mundane parts of social media little exciting, the first and foremost thing you can do is to get verified online.
See, whether it is a business account or a personal account or maybe both getting a little blue tick mark next to your profile is massively important.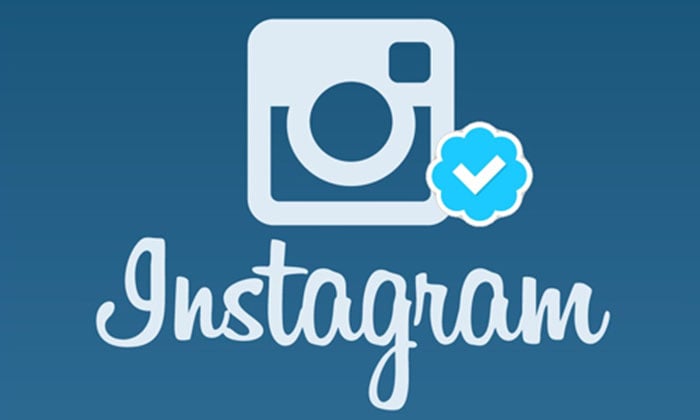 Instagram verification ensures that people are able to find the correct account when they search for a particular influencer it may be a celebrity.
The term "verified" indicates that Instagram has put an effort to make it confirm that you have come to the right place.
It basically provides you credibility when someone looks up you or your business profile.
On the other side, verification can be difficult to do process and might take some time as well, but it is cent per cent possible.
It Is Worth It!
Ok, tell me have you ever tried to become verified and you were rejected?
Perhaps you just don't know from where to start.
Usually, it is called a "Verified Badge".
This verified badge in the form of a tick mark is found sidled up next to the handles of well known global brands or next to the celebrities.
Unless you have got a huge fan following like Nike and Wall Street Journal. Since these badges are given on an individual basis by the moderators on Instagram.
So, it is difficult to purchase these badges and fool the algorithms into thinking that you are worthy of verifying.
If you have a massive following, but still you are not verified because you might not have proved it to Instagram yet, that your account is official.
On the more, if you have tried to get verified earlier but you have been rejected, you might not be following the rules properly. Well, for some sites it is a lot harder than others to show that your account is official.
But don't give up on this.
This article on Instagram Verification will aim at telling you how to get verified on Instagram.
Let's see what Instagram has to say about all this.
It says that a verified badge is- "that Instagram has confirmed that this is the authentic account for the public figure, celebrity or global brand it represents. Accounts representing well-known figures and brands are verified because they have a high likelihood of being impersonated.

We want to make sure that people in the Instagram community can easily find the authentic people and brands they want to follow".
Apart from this Instagram has also cleared that the decision of getting verified on Instagram, will be completely in the hands of Instagram only. They will decide who qualifies as a public figure, a brand or a celebrity.
You just cannot apply to become verified. Although Facebook owns Instagram, yet it uses almost different procedures to determine who is eligible for Instagram Verification symbol on their profile.
According to Instagram, the one who is famous on one of the networks it may be Facebook or Twitter, may not be considered a celebrity on the other.
Let's see what the policy statement of Instagram says- "Currently, only Instagram accounts that have a high likelihood of being impersonated have verified badges".
If the audience is able to find your Instagram account easily then it is very unlikely that Instagram will verify you.
Though, Instagram doesn't consider the verification tick to be a status symbol yet this is how many of its users see it.
It's simple, Instagrammers who have a blue tick mark, flaunt it, and the ones who lack it they consider that Instagram has denied them "authenticity power".
Well, we can tell you some of the tricks to get yourself verified on Instagram.
So, let's get started!
Click here to follow me on Instagram
Instagram Verification
How to request for Instagram Verification?
Well, applying for the request of Instagram Verification is really very easy.
Before I ask you to follow the instructions below, you have to make sure that you have logged in to the right account you want to get verified.
That means if you want to get Instagram Verification for your company account then you should make sure that you are not logged in to your personal account.
So, let's see the instructions for requesting Instagram Verification:
Logged in to your Instagram Profile
Click on the menu icon on the top right corner of your profile.
Select the "settings" icon that appears on your screen, here you have to select "Account".
Now, in the Accounts settings scroll down to "Request Verification" and click on it.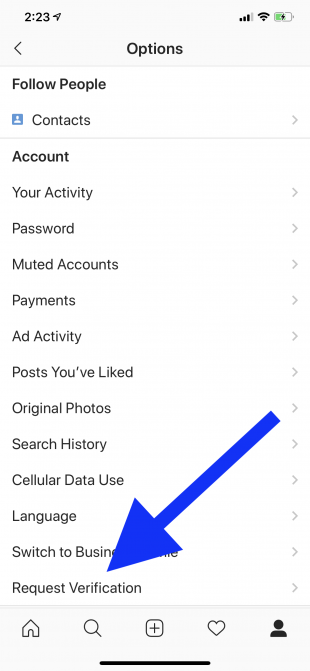 As soon as you will click on "Request Verification", you will be followed to a form pre-filled with your account name in it. Add your full name in it.
You can see in the picture above, an option of "choose file". Click on the "Choose file", so that you can attach a photo of your ID. For a person, an ID can be a driver's license or a passport or any kind of national identification card. For a business, you can use any documents related to your business such as PAN in the name of your company or article of incorporation, an electricity bill, etc.
Here you have two options either open your camera and take an in-focus photo of your ID or you can upload an image of your ID from your gallery.
Lastly, you have to click on the send button at the bottom of your screen.
After all this application work is completed, I would like to tell you rule #1 of getting verified on Instagram.
All the suggestions or tricks for Instagram verification I am going to discuss with you, first apply all of them to another social network.
You have to build an influencer status there before you are going to use them on Instagram. But if you have to build status on Instagram then apply rules on other social networks. Then it is very unlikely that you will get verified.
So, let's get started with all the necessary steps you should apply for Instagram Verification.
Become A True Influencer
This is clear that in order to become famous online you have to build your followers and engagement. You need numerous people to follow you.
Well, it is not worth having a large number of followers just to boost your numbers. You need to have a fan following who will interact with you and engage with your posts and status.
Earlier we have discussed Instagram marketing strategies. It focuses on the powerful tips you can apply to become a brand on Instagram.
You have to show your expertise in your niche. You might get more followers by appealing everybody, but how will you seek engagement.
So for this, you have to show all your skills related to your niche. You need to build up recognition for your expertise in your preferred area.
Let's take the example of Zoe. Zoe Sugg, firstly she built her online reputation with her personal lifestyle and beauty blog named as "Zoella".
She started with her YouTube channel and developed her reputation as a beauty and fashion guru. Her channel has more than 12 million dedicated followers now.
After building her reputation on YouTube, Zoe made a successful transition to other social media networks, including Instagram. Zoe is able to develop a sizeable audience on Instagram that matches her YouTube following.
In fact, copying Zoe others have also opened up similar accounts so, Instagram verified Zoe's account so that the confusion can be avoided.

Whether it is Instagram or any other social media network, engagement has its importance. So, in order to grow your business on social media, you have to show expertise in your niche, to become a true influencer.
There is no point in making a spree of "awesome pictures". Giving thumbs up or commenting on other's images and photos will not show your credibility as a thought leader.
Increase Visibility Using Popular Hashtags
In my earlier blog on Instagram marketing strategies, I have discussed the importance of Hashtags.
Branded and interactive hashtags are a great way to create instant engagement on your Instagram post.
Look every time someone posts anything like the photo, video, etc using a branded hashtag, they are actually exposing your branded hashtag.
If you already have a particular brand slogan, like Coca-Cola has, #shareacoke, you can consider making it your branded hashtag. And Coca-Cola successfully accomplished it.
Let's see here.
Doesn't matter what you are posting, you should not over post. You just need to post at the right time.
When your hashtag becomes a brand like Red Bull, #itgivesyouwings, customers can use these tags in order to post user-generated content.
With the help of these hashtags, users can search through all the posts which are related to your brand.
Using hashtags also helps you to easily search for the images that you might want to re-post on your Instagram page.
Creating a hashtag for your own company is essentially free advertising.
Both Twitter and Instagram suggest popular hashtags. In fact, there are some independent apps also such as TagBlender or hashtagify.
I visited HashTagify and there I put "Instagram" as my hashtag in the search box. This is the result which I have got.
According to Shortstack– the ten most popular hash tags on Instagram are:
#photooftheday
#cute
#me
#love
#instagood
#followme
#fashion
#beautiful
#tbt
#happy
For Instagram marketing Shortstack has listed 158 popular hashtags, whether it categorizes contest/promotions, boutiques/retailers, musicians, restaurants.
But on the more, one thing is that you create a hashtag for yourself or for your personal brand and convince your followers to use it.
Posts During Peak Days Or Peak Hours
Do you eat, sleep, work, wake-up in time?
Of course yes!
So, in order to increase engagement, why can't we post our blogs at the right time?
To encourage maximum engagement, you all want those maximum people should possibly see your posts. For this, you have to notice the time when most of the followers are checking their social media accounts.
According to a report of SimplyMeasured, the worst days to post is Sundays and Wednesdays. And Mondays and Thursdays are the best days to post.
And if we look at the best times of the day to post, then we have to go according to the research from CoSchedule.
Well, you should notice yourself also, which time is the best when your followers are most active on Instagram.
The research also revealed that you should post just one to two post a day and not more or less than that.
Still, if you are eager to post more of the images, then you can use Instagram's Carousel Album Feature in order to post multiple images and that too in a slide show.
You can also use Hootsuite, CoSchedule, Sprout Social to schedule your posts, as and when to go live.
Well, I have got some suggestions for the optimal posting times for different social networks:
These are suggestion given by CoSchedule. CoSchedule didn't give any suggestions for YouTube, probably because YouTube has no disappearing feed, unlike other social networking sites.
So, finally, when you are ready on other social networks you may be ready to build your Instagram clout.  Let's see what CoSchedule has recommended for Instagram.
Now, let's move on to the next strategy for Instagram Verification which says the promotion of your Social media accounts is one way to get verified. Let' see how?
Promotion of Social Media Accounts
Well, if you want to become an internet celebrity, then you have to cross-promote all of your social media accounts.
This will become a circle in one way. Because that way your Facebook followers may choose to follow you on YouTube or then may they will sign up to follow you on Twitter and Instagram as well.
This is the way you will be popular across the range of sites and now more likely be considered to be worthy of Instagram Verification.
So, in the same way, you can follow us on Instagram by clicking the Follow Button, below.
Never Buy Followers
In an exam, it is easy to cheat with the cheat-paper, but Instagram keeps an eye on you. Just like Google, Facebook, Twitter, and other social media sites, Instagram is very well trained at spotting the tricks you use to build a reputation.
So, avoid taking any kind of shortcut in order to build a reputation to gain that coveted verification tick. If you are caught by Instagram doing unethical social practice, then it will lead to you having an "unbalanced account".
So, never buy followers!
Unbalance account simply means when you have a significant following but little engagement. This happens when you buy some people as your followers, they will never see your posts, they have no interest in you, and will never engage with you.
You have to restrict yourself from doing some spammy comments. Neither Instagram nor your users will consider you as an influencer if they associate you with "nice-pictures" type comments.
These comments are actually not different from those created by automatic bots.
You have to make sure that you follow Instagram's community guidelines. If you will not follow the rules as decided by Instagram, you can be banned for posting unethical pictures of nudes or your latest drug paraphernalia.
Well, this you have to keep in mind that if you follow the rules as decided by Instagram and the way they want you to use Instagram. That the day will not be far away when you will be awarded that coveted blue tick.
Add Personality To Your Postings
I have told you earlier in this article that Instagram verifies selected accounts. Instagram verifies those accounts that are genuine and guarantee that they are official accounts.
These official accounts may be accounts of any public figure or celebrity or maybe a global brand. So, you have to make sure that your account has to be different from others.
Instead of posting normal pictures of some buildings or landscapes, you need to be more active and add value to your account. Indeed you are not influential in any way.
So, if you are portraying yourself as a model, then you have to be influential in that stream only. Then only you will do far better by posting pictures of giving some fitness tips, the secret to glowing skin, etc. Post some videos giving demos.
The reason why all the models are getting verified by Instagram is that they always do what people wanted to know about them.
So make sure that you have to personalize your posts, increase engagement and get verified.
Before we end this discussion here, I think you should watch this video for more clarity.
Conclusion
Instagram Verification is difficult to get but it is not impossible to get verified on Instagram.
Here I have discussed with you six crucial things which you have to keep in mind and implement if you are seeking for this coveted blue tick on your profile page.
First and foremost, you have to make sure that you have goodwill on other social media networks as well. Instagram verifies those accounts which represent a public figure or may be a global brand or a celebrity.
Make sure that your blogs are posted at the right times on your social networks for your target audience. The best times are basically the days or the best timings during which your target audience or your followers are heavily active.
This can increase engagement on your posts.
Using branded hashtags can help you reach a wider audience. Just like other social networking sites, Instagram suggests popular hashtags. In fact this we have discussed earlier in the article.
One common practice is that you should create your own hashtag for your personal brand and persuade your audience to use it regularly.
This way you will be able to reach maximum followers and increase engagement, which will, in turn, increase the chances of getting verified on Instagram.
Avoid using unethical practices. Remember just like other social networks, Instagram keeps a watch on you. If you are caught doing something against the rules are prescribed by Instagram, your account can be banned.
So, before using Instagram for your business purpose, you need to know how to be social on social media.
Hoping you have liked the article on Instagram Verification. There are numerous people running after getting this small but valuable coveted blue mark. I am sure you might also be sailing in the same boat.
We will get back to you soon with some more interesting topics. But if you have one in your mind please leave a comment below.
You can also leave a different way to contact you by filling this small FORM.
In Your Service
Dhairya Singh Chauhan