Instagram Marketing Strategies
When we talk about social media, we mostly consider Facebook, WhatsApp, LinkedIn etc as part of social media.
We don't think and see beyond this. Today let's talk about one more trend of social media, which will help you in building a brand.
I am talking about "Instagram". I am going to discuss upon Instagram Marketing Strategies.
This new trend is becoming very popular these days and soon become a part of digital marketing.
In order to market the products online via social media and making it a brand, digital marketers are using Instagram these days.
Since its creation in 2010, Instagram has taken the social media world on its edge. Instagram has grown into an ultimate platform for sharing videos.
I know you are not very active on Instagram and don't take it seriously.
You will be shocked after knowing that more than 800 million users are active on the site every month. Over 60 million photos are posted on the site every day and on the more 1.6 billion "likes" are given daily.
No doubt earlier Instagram was just like any other mobile app. But nowadays, marketers or business owners across the world have considered Instagram to be the most popular marketing platform.
It helps them in building a network of the targeted audience as well as the growth of brand popularity and business too.
Instagram- Overview
Instagram was originally being named as a portmanteau of "instant camera" and "telegram". The name is meant with the purpose of sharing photos.
The two Stanford graduates Kevin Systrom and Mike Krieger founded Instagram. It was first launched on Oct 6, in the year 2010, for iOS. After two years, when it became a success, the app was launched for Android phones also on April 3, 2012.
In June 2013, Instagram introduced video sharing for the first time. In the same year, December 2013, Instagram introduced private messaging.
The positive point about these messages is that these messages can be in the form of text or photo and it can include up to 15 people.
Instagram changed its initial logo with a new one, which is more modern and colourful in August 2016.
Before moving ahead knowing about the Instagram marketing strategy, I would like you to concentrate on "Instagram Marketing" first.
So let's start with Instagram Marketing.
What is Instagram Marketing?
Instagram is basically photos and videos sharing networking service which is originally created especially for smartphones.
So, Instagram Marketing is basically the way that brands use to connect with their audience which they are targeting and also market what they offer.
I must say everybody who uses Facebook and Twitter also creates an Instagram account, and they have a profile and newsfeed.
Users can interact with each other by following one another or being followed, in fact commenting or liking of the photos as well as videos or even private messaging.
Instagram is the first one to offer in-app filters and editing options to this extent, which makes the app different and unique.
It also allows users to upload videos as well as photos to their profile and edit them with various options.
Instagram Marketing Strategies 2019- Video
Here I am going to jot down some of the Instagram Marketing Strategies that actually work. You can use these Instagram Marketing Strategies to milk the platform for all that it is worth for.
Let's take it to step by step, where first you need to switch to a business profile.
Instagram Marketing Strategies
Instagram Business Profile
The time you start thinking about Instagram Marketing Plans, you have to make sure that you have created an Instagram Business Account.
You can easily switch your current profile to a business profile.
You just need to head towards your account in your settings. There you click on "Switch To Business Account", in order to get started.
Now, there are some benefits you will be getting while having a Business Profile.
Firstly, the followers following you can click on your contact button, in order to get in touch with you right from the Instagram Page.
Secondly, the business profile will help you in creating and publishing Instagram Ads. This can be done without using Facebook advertising tools.
Thirdly, you can access "Insights", an Instagram Analytics Tools. The tool tells us about the reach of your posts and its impressions.
The above mentioned are the main perks that you are getting with creating your Instagram Business Profile.
As soon as you unlock the free perks you need to start using all the tools, so that, you are able to track metrics and also understand your audience.
You Can Create Sponsored Ads
Sponsored Ads have become very common on the Instagram platform.
The best part is that you can actually control exactly how much you want to spend on these ads by setting up a budget.
You can showcase multiple ads or just one ad with the help of the carousel feature.
This way the brands get the ability to target the audience in a whole new way. Till the time your ads or posts are not sponsored ones, only the users following your account will be able to see your posts. After sponsored posts, everyone will be able to see your photos or updates.
Now, your brands will be able to promote their photos to anyone that best fits their target audience, in order to increase their reach further than ever before.
You should use the content that is compelling to the target audience you want to put the ad in front of.
In fact, you can also turn your existing posts into sponsored ads too, to keep an eye on your top posts.
You can also place these highly performed posts out later to the potential customers in the form of sponsored ads.
There are many different kinds of sponsored ads that you can post, such as:
Video
Photos
Stories
Carousel/ Dynamic Ads
Stories Canvas
You can also run multiple posts to different audiences simultaneously for getting evens more response or engagement from your target audience.
Using free Instagram tools is another great way to get through the insights to understand the users in a better way.
Well, if you are thinking so, Instagram Business Profile is no less different than that from Facebook Business Profile.
With the help of these free tools, you can view the insights or the statistics like engagement data, impressions and even more.
You can also get the information on the demographic breakdown of your followers, including the information on their age, location, gender and also the most active hours.
These insights can be generalised as well. You can also get specific insights on the posts for a week. This can show you how many impressions you have earned for that particular time period and what were your top posts.
These Instagram analytical tools are priceless. The reason is that you can use them to understand how your users are interacting with your content.
As you get to know more and more about how exactly your users are interacting with your sponsored posts, you can adjust your content in a better way in order to boost engagement.
Another important Instagram category which is sponsored or not is a great way to connect with the audience or the followers is Instagram Stories.
Instagram stories are of great help, if, you want to generate leads.
Don't get confused between Instagram Posts and Instagram Stories. Instagram Stories are different from the posts, as they come in a "slideshow" format.
Instagram stories remain "live" for a duration of 24 hours, but they can be saved for the later time to any of your devices and you can reuse it.
This is a direct competitor to Snapchat and also is very similar to Snapchat stories.
As soon as the user clicks on your photo on the top, a window will pop up, this will guide you to view your story.
There are endless benefits of Instagram Stories. For the starters, stories are displayed at the top of the follower timelines.
Different brands can use the stories to capture insider posts that might not be of "high-quality" as of the regular posts.
Instagram makes it easy for users to experiment with different types of features in the content. The content features of the stories can be photos, rewind videos, Boomerangs or live video or can short videos etc.
You also get the benefit of tagging other accounts to your stories. It is great if collaborate with other brands or influencers.
Other features like face filters, stickers or text makes it easy to edit images or create funny and eye-catching visuals.
Any event or photo you add will play in the same sequence that you have added it.
Another best thing about Instagram stories is that you can add unlimited amount of posts to your stories at any given time. Well, this feature is available to all businesses globally.
Look, Instagram stories are available on the Instagram app on the mobiles. So, the limitation is that currently, you will not be able to send Instagram stories as direct messages.
According to the sources, most of the users are accessing Instagram via smartphones. They are not using the website, so this isn't something you need not worry about.
Notice: If you haven't partnered with any of the influencers yet, then you are making a killing on Instagram. I think its high time you should find a few that you want to work with and reach out to them ASAP.
Let's see the next one of the awesome Instagram Strategies that will help you for a wider reach, Partner with Influencers.
Whether it is Facebook, Twitter or Instagram we all like to follow those personalities that have built an audience with a large following.
So, if you want to reach a larger audience or potential customers on Instagram, then this is the fastest way to do so.
Well, you might have noticed that a large number of people is buying products or services based on what they see in their news feed especially from the influential people they follow. This is because they trust them and their products.
Partnering with the right industry influencer will make you get your brand out in front of those users.
But, how this can be done?
Firstly, you have to try and identify those influencers that have an audience and are relevant to your product or service.
Just like what Gravity Blankets did with their product. They find an influencer Jessi Smiles to promote their product on her Instagram Page.
Let's see the post first:
You can see that the post has some thousands of likes.
Gravity Blankets sells weighted blankets for stress and sleep. If you will see their Instagram page you will notice that they have fewer than 1000 followers.
But, on the other side, if we look at the Jessi Smiles page, she has nearly 500,000 followers which say that they will most likely trust her.
That means Gravity Blankets has exposed themselves to thousands of customers via only one post.
Seriously, if you play your cards right then you can even work with the top influencers in the future in order to gain millions of likes.
Let's ahead towards one category of post, that will grab attention for sure is product teasers.
Think of a situation where you can sell products on Instagram just by posting product teasers?
Answer– You can!
These days Instagram has become a new and good place to advertise your products. Look, if you play your cards right, then you will not miff your users with advertisements.
Rather, if you are compelling then your users will drop like flies. Actually, product teasers are a very normal and simple way to talk about your product. It increases excitement as if you are trying too hard to sell your product.
Here we will take an example of Starbucks. Starbucks teases its audience just by announcing seasonal drinks. They just used sharp imagery and not even tried to force people to buy them.
Let's have a look at it.
And the post got lacs of likes. You can see that yourself.
When you tease people especially about those products that they are or might be interested in and you don't force them to buy anything, they will themselves pull the trigger and buy something.
But don't get pissed off if they don't buy, they will at least engage with your post by liking it or commenting on it or by sharing it with a friend.
So, just don't rush into anything like showing off your product. Just take it easy and do it gently.
You can also use the existing customer's posts in order to influence people to buy your products just by collecting user-submitted photos.
With the help of user-submitted photos, it is possible to create great content for your Instagram page, even without doing any kind of hard work.
When you already have an engaged audience, you can leverage them to generate useful content for you.
And this way your audience will love to enjoy user-generated content more than they would have enjoyed yours because it is authentic and unpredictable.
Let's talk about one of the cosmetic brands MAC. I am sure you all are aware of the brand.
They have used tons of user-generated content that they have promoted on their Instagram page to show off products.
I am sharing one of the photos that their user has posted.
You can notice here that they have used hashtag #regram and tagged the user in their image.
But the question here is how you can get your users to create compelling content for you, and it should not look pushy.
Ok, this is very simple. Just like you, even your audience likes to grow their own following. It is just too simple.
So, anyhow it is a win-win situation for you and your users.
Remember, when you are running a business you have to make sure that everything you do should tune with your brand's image.
And, if someone is sharing your user-generated post with a large following, they might be interested in checking your page out too.
You have to choose photos or pictures that mimic your brand's tone.
Please don't be too biased about your posts. Just mix it up and watch your engagement grow and your follower count.
This has brought to my notice about branded hashtags as one of the Instagram Marketing Strategies. The branded hashtags probably encourage Instagram followers to interact more and more with your company.
Branded and interactive hashtags are a great way to create instant engagement on your Instagram post.
Look every time someone posts anything like the photo, video etc using a branded hashtag, they are actually exposing your branded hashtag.
If you already have a particular brand slogan, like Coca-Cola has, #shareacoke, you can consider making it your branded hashtag. And Coca-Cola successfully accomplished it.
Let's see here.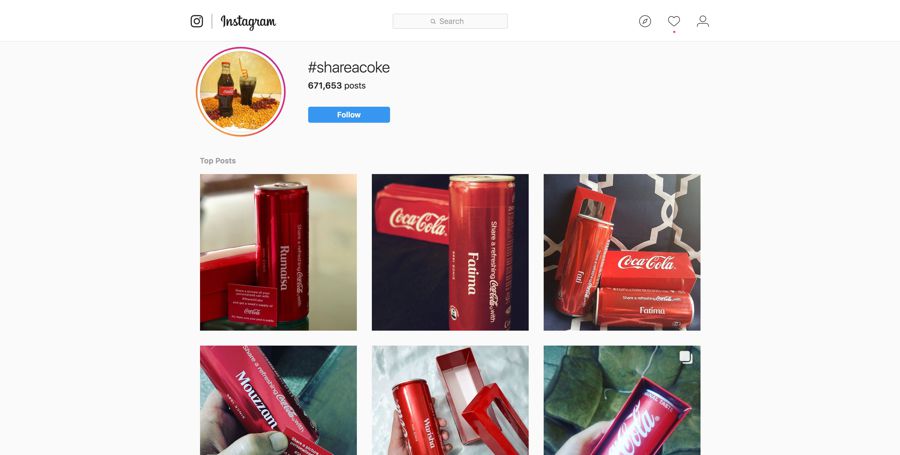 Doesn't matter what you are posting, you should not over post. You just need to post at the right time.
When your hashtag becomes a brand like Red Bull, #itgivesyouwings, customers can use these tags in order to post user-generated content.
With the help of these hashtags, users can search through all the posts which are related to your brand.
Using hashtags also helps you to easily search for the images that you might want to re-post on your Instagram page.
Creating a hashtag for your own company is essentially free advertising.
But all this will be successful only if you are going to track the right metrics.
Sharing posts, pages, photos, videos are not quite enough for you. Without knowing how well your posts and pages are performing, you will not be able to improve upon your performance on Instagram and optimize it.
You can take it as one of the important Instagram Marketing Strategies.
Regular checks on the metric will definitely allow you to keep a track on what works and what doesn't.
Well, I think you should start by tracking your follower growth rate.
Look, when keeping a track on what the growth rate of your followers it is very clear that, you can keep track of many things. The followers' growth rate will give you an idea of what kind of content your posting is affecting things.
If you want to track your follower's growth rate, you can use the tool InfluencerDashboard.
After you get knowledge about your followers' growth rate, you should measure your engagement rates.
Well, here you need to find out the average engagement percentage and the average engagement rate of each post. The measure will help you in getting a clear picture of how your Instagram page is performing.
And last but not the least; you need to track the click-through rate of your URL.
Well, first thing, if you haven't done already, is to have a link to your website on your Instagram bio, ASAP, like this one:
This is how you will come to know how many people are clicking your URL.
The more your Instagram Marketing Strategies will influence your audience, the higher will be your CTR. If it is low, then you have to work upon it to improve your metrics.
Well, over posting on Instagram is basically a sure-fire way to put away your existing customers or followers.
If they didn't find you good and effective and they are getting miffed off your over posts, they may unfollow you ASAP.
That doesn't mean you need not post. It means that post on a consistent basis so that you remain active in their news feed.
One of the best ways may be that you can post during peak days or peak hours when your followers are online.
According to a report of SimplyMeasured, the worst days to post is Sundays and Wednesdays. And Mondays and Thursdays are the best days to post.
And if we look at the best times of the day to post, then we have to go according to the research from CoSchedule.
Well, you should notice yourself also, which time is the best when your followers are most active on Instagram.
The research also revealed that you should post just one to two post a day and not more or less than that.
Still, if you are eager to post more of the images, then you can use Instagram's Carousel Album Feature in order to post multiple images and that too in a slide show.
You can also use Hootsuite, CoSchedule, Sprout Social to schedule your posts, as and when to go live.
I hope you have always liked our posts, and we can recognize it with the comments and queries you send us. Now, you can also follow us on Instagram. You just need to follow the button below.
Conclusion
Just like Facebook and Twitter, Instagram has also become one of the important members of the social media fraternity.
With over 800 monthly users, Instagram has dominated the world of social media, so you need to do your part to scoop some of them.
But, for this, first, you have to switch your account to the business profile. This will help you get the benefits of free tools and insights.
Then, you can start using all the free tools. Using these tools you can check your metrics.
From Product Teasers to sponsored ads to reach target audiences and to Instagram Stories, you can use all the tools and features as one of the best Instagram Marketing Strategies to reach out maximum.
Leverage the power of user-generated content by reporting images that your customers are sharing.
You can also choose a photo to share every week or every month, including a message related to your brand.
Don't do over posting, unless your users will be miffed off and it can become a sure-fire to put off your audience. Post the product at the right time and choose the best days for posting.
Once or twice a day will work and your followers will not unfollow you.
Finally, you have to be sure that track the right metrics, so that, you are able to get complete information about your followers' growth and growth in the engagement. Even you can understand your URL click-through rate.
These Instagram Marketing Strategies will help you in understanding your followers' behaviour and whether your Instagram Marketing efforts are paying off.
Please stay tuned to digitaldhairya.com, we will be back soon with some more important topics.
You can send your queries with the help of filling up the FORM to us.  We will get back to you ASAP.
All The best!
In Your Service
Dhairya Singh Chauhan