WordPress Review
Have you noticed the pattern of marketing, selling and purchasing is changing these days? I think we should give a huge round of applause to publishers, bloggers etc.
Just tell me one thing, whenever you search for a product online, it may be cosmetics, electronics, kitchen appliances etc, what you do?
I tell you what I personally do!
I choose the product, look at the ratings of the product on the e-commerce websites. Read the reviews which the users have posted, and then make my decision.
So, if we can do this while choosing a product, then why can't we take a review of a website builder? Actually, it is your "Haqq".
Here in the article today I am going to take you on the ride of WordPress Review.
In some of our articles, we have talked about the comparison of WordPress with other website builders and strongly recommended WordPress above them.
We have talked about WordPress Vs Wix, where we have told you about the pros and cons of Wix and WordPress and helped you to choose the one which is best for you.
One article we chose WordPress over Bloggers (BlogSpot) and we informed you about the benefits and disadvantages of choosing both individually.
Today we are taking you further towards the WordPress Review so that you can give a second thought before choosing WordPress or any other website builder.
WordPress Review- Overview
Let's have a look at the rating meter:
We can also have a look at the new Releases of WordPress in the year 2018.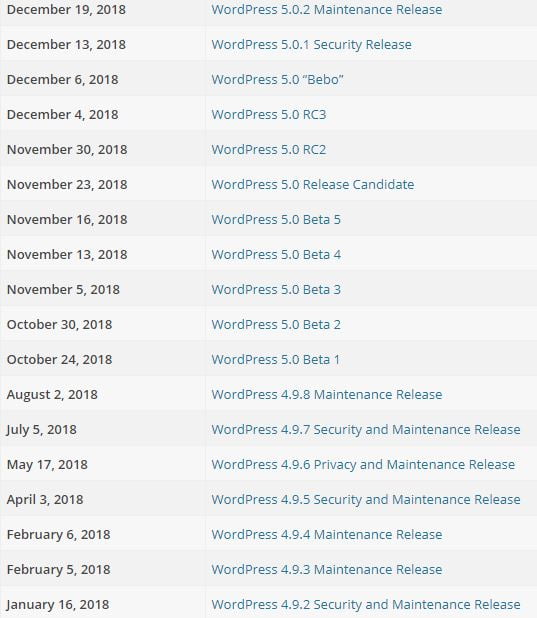 This shows that the WordPress team keep themselves updated from time to time.
We are using WordPress from quite sometime and can't see ourselves moving it to another website builder as of now.
But you might be thinking, why is that so?
Well, there are many reasons for this and one of them is we cannot afford to switch to another website builder at this point in the lifespan of our website "digitaldhairya.com".
If I want to describe everything about WordPress is that "the pros of this software outweigh its cons".
I know all digital marketers like technology and innovations. There is no doubt I also like technology to an extent.
Whenever there is a new version of phones, apparently, with more new features than the one I am having, I own that phone by paying some couple of rupees. These new features may be of no use to me!
That is why the above phrase is very useful to me.
So, whenever I have to make a choice of a website builder, I will not pick the one which has new features, or more than what I wanted.
In reference to above, I would like to suggest that, if you are looking for your first website builder, then don't run behind tools, new features because you don't need them right now.
Look, very simple thing, each and every website builder has some pros and cons. This is also true that all the pros may or may not work for you or meet your requirement.
This article on WordPress review will take you to the world of WordPress, where I am going to cover the pros and cons and much more…
So let's get started!
I am going to start with the very basic question of the day "What is WordPress?"
What Is WordPress?
WordPress is one of the world's most popular website builders, which powers more than 30% of all the websites. That means more than 80 millions of websites all over the world.
WordPress which has started as a normal blogging platform i.e., WordPress.com but in no less time it has morphed into a website builder i.e., WordPress.org.
WordPress.org permits you to create any kind of website. This includes forums, eCommerce websites, and memberships may be business websites as well and many more…
Please, don't get confused with WordPress.org and WordPress.com
As we have discussed earlier also, WordPress has two versions:
One, a self-hosted WordPress.org
The other one is fully-hosted WordPress.com
Let's take a look at the difference between the two.
How WordPress Works?

See, WordPress is a platform wherein you can house your content, your plugins, as well as your website theme design, just like an iPad.
It gives the website owners full control and flexibility, of choosing themes and plugins in order to control the features on your website.
You are not limited by the platform as other website builders like Shopify or Bloggers or Wix.
For example:
Shopify which is one of the leading eCommerce platforms, but it provides you with the abandonment tool. Well, this feature is available only if you are using Shopify.
If you switch your website to another builder like Wix, the cart abandonment feature is unavailable, because Wix does not offer this feature on its platform.
But, if you are using WordPress, then you can add any of the features that you actually need. Even you can turn your website into an eCommerce website or a blog or maybe something else.
So, I think you have got an idea as to how WordPress works. But this is not all, we have to dig deeper into it.
Unlike other website builders, WordPress software keeps the design, functionality and content separated from each other.
That means you can add any content, doesn't matter what design you are using. Or maybe modify your design without touching the content or you can add new features without affecting other things as well.
Let's go beyond this:
How to add your content in WordPress?
WordPress is a software that stores content in a database and in media files as well but in a separate folder.
I am sure you are using Post editor or content control editor in order to add your content to your website.
It is simply called as "WhatYouSee IS What You Get" WYSIWYG editor or website builder which is user-friendly. This feature comes in two forms:
Visual Editor: Visual editor is WYSIWYG style editor. Through this, you can add formatting and you can see how it will look like when your content will be published.
Text Editor: Text editor is where you can add formatting by writing HTML coding. You will not be able to see, how your website or your content appeared on a live website until you click on preview or publish.
Unlike Wix, WordPress does not provide you with some fancy features like drag and drop, in order to customize the design of your content.
How to manage design and appearance in WordPress?
WordPress has a powerful templating engine, which is used to manage the design and appearance of the website.
Well, this templating engine allows the developers to create a set of templates, which basically called as "Themes".
There are numerous WordPress themes available in the market, for creating eCommerce websites, for business purpose etc etc etc …
Every theme comes with its own settings, through which you will be able to customize the design and appearance of the website.
WordPress Add-ons
Add-ons are basically called Plugins. WordPress has become a popular platform for many of the developers, as they can write their own add-ons on it.
Just like apps on your mobile phones, these Plugins works the same way. You can add new plugins to your WordPress, in order to add new features to your website.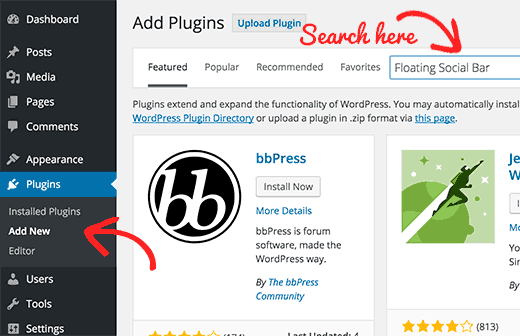 At this time when I am writing this article on WordPress Review, I can say there are more than 60,000 plugins available in WordPress Plugins directory only. You may find almost all kinds of plugins.
After all, this, let's have a look towards more things about WordPress and see what all is left in the bag.
So, I think we should talk about the security in WordPress.
WordPress Security
If we talk about the security in WordPress, then there are some basic rules, which you have to follow so that the installation of your WordPress is safe and secure.
WordPress Pros + Cons
I will talk about the Pros first. So, let's get started!
Well, in this article on WordPress Review earlier we have mentioned it directly or indirectly that the Pros of WordPress outweighs the Cons.
Pros Of WordPress
To know why to opt WordPress as your website builder, it may need a whole article, particularly on WordPress.
But till then, let's focus on the pros of WordPress, so that you may come to know why it is useful to choose WordPress for your website.
You know that you are free to own your website completely as WordPress is self-hosted. So, it is your responsibility to keep your website simple and updated while installing new features as it grows.
You can use the best SEO tactics to drive maximum traffic to your website. Also, you can make it super fast by upgrading it to the higher plans of hosting that can give you more bandwidth.
Incorporate Third-Party Tools:
It gives you access to incorporate third-party tools, to extend your website and to create a website you needed. There is a huge collection of extensions, plugins and add-ons to help you grow your website.
It means that if you have a will to add
A shopping tool,
a forum,
exit pop notices,
membership access area or
any other advanced features, then you can do it by installing the tools or software provided by the third-party by using code snippets or plugins etc.
Customizable Design and Features:
As you get complete access to WordPress codes so it becomes super easy for you to customize with numerous website templates or themes and designs.
You can add various features with so many options of choosing themes and plugins anytime so that you will be able to create a unique website.
WordPress is very popular worldwide. I can say that almost every website is built on WordPress.
And because of its popularity, maximum of the third-party tools have integrations available for WordPress.
Due to this reason, the SEO tools, CRM software, e-mail marketing software, and also lead generation tool, and last but not the least your payment gateways will work with WordPress.
Cons Of WordPress
See, everything in this world is 99%. That means 1% imperfection exists and so with the WordPress.
It is not perfect. It also has some disadvantages, which you have to keep in mind while choosing a platform for your website.
It is true that you don't need to learn codes to use WordPress, but still, some sort of technical knowledge is required.
You should have technical knowledge in order to manage and set up your hosting. Knowledge of codes will help you to manage and troubleshoot issues with WordPress.
You may also need coding knowledge in order to customize the design of your website.
That means some basic knowledge of HTML or CSS is required in order to make things easier.
We know WordPress is a self-hosted software that provides you with many features and options.
It means you are owning your own website completely, so only you are responsible for maintaining its backup, installing updates from time to time and also for its security.
This can be done via automating it, but surely it will require some kind of attention.
Requires Much Higher Learning:
As WordPress does not have a built-in drag and drop features with it. This makes WordPress not an easy platform to get to grips with. Most beginners may find it difficult to manage with the software.
Well,  much knowledge is required to get familiar with it and to learn the basics. That means you really need to refer some guides or take some classes to actually understand what WordPress is and how it works.
There are numerous videos available on Youtube to be used as a guide for learning WordPress and get how to get the best while navigating to the number of features available.
Best WordPress Courses:
Well, we know using WordPress requires extreme knowledge.
In order to dive deep into the knowledge of WordPress, I recommend you to do some online courses so that you will be able to gain knowledge about:
How actually WordPress works?
Creating websites using WordPress
Setup server and hosting environments
Better understanding and adapting to the themes
Generating revenue
Fixing and troubleshooting
How to use WooCommerce for an online store?
For learning all this I recommend you A Complete WordPress Website Business Course.
It has got 5-star reviews and the best I can recommend. I can recommend you more also as:
Udemy.com-    The Complete WordPress Website Business Course For $15 per month.
Tutsplus.com– Featured Tutorial, Courses and E-books for $15 per month.
Lynda.com–      All premium courses at $19.99per month.
WordPress Review Video
Conclusion And Recommendation- WordPress Review
After reading the WordPress Review, I am sure that you have got an idea, that WordPress is not for everyone, but this is also to be noticed that it very good for some projects.
When compared to Weebly or Wix, truly it becomes difficult to get to grips with.
But, as you take complete advantage of the features of WordPress, this complex software will become a powerful tool for you.
After reading the pros and cons, it is clear that the software is very flexible and you can create any kind of website of your choice.
WordPress is great for those who need a website laden with content or the one who needs a complex website.
WordPress drawback is that it does not have an in-built drag and drop feature as compared to the other website builder like Wix. Because of this reason, it is a big investment of money and time as well.
As per above article WordPress Review, I recommend that if you have no idea about the investments being done in WordPress, then you should go for a drag and drop website builder, that may fit almost all your needs.
You can always switch later to WordPress when you feel that your website has growth potential.
I feel that on reading the article, you might have decided about choosing the WordPress as your first website builder or not.
if you have any query related to the WordPress Review, then you are requested to fill the FORM and leave your comment. We will get back to you soon.
Thank You!
In YourService
Dhairya Singh Chauhan