Flipkart Vs Amazon Affiliate Program
Hey everyone!
Well, I think this time we have come up with something very interesting "Flipkart Vs Amazon".
Online shopping has become a trend these days. I know in this digital world everybody loves to shop online.
So, in this world of online shopping, Amazon and Flipkart are the key players. I am not biased at all.
I am not denying that with the emergence of eCommerce in India with Flipkart followed by other eCommerce websites such as Jabong, Myntra and more, it led to the emergence of affiliate marketing as well.
The reason for this tremendous growth in affiliate marketing is that the trend of online shopping is increasing. People find it comfortable while shopping online without needing to rush to the stores.
We have also seen that many times when the latest gadget is introduced, people are forced to buy it only on Amazon or Flipkart. This, in turn, has become a major source of earning for digital marketers and bloggers these days.
If you are a digital marketer, then I am sure you very well know about Google AdSense. In earlier times, those days Google AdSense was the only medium of earning.
As time passed on, Affiliate Marketing has taken over Google AdSense and it has become an obsolete way of earning online.
Well, let's move on to know something about Affiliate Marketing.
"Affiliate Marketing is an advertising model where a company pays compensation to third-party publishers to generate traffic or leads to the company's products as well as services. The third party publishers are referred to as affiliates and the commission fee incentivizes them to find ways to promote the company"– By Investopedia
Well, Affiliate programs are the best way to earn money online especially these days in India. There are numerous affiliate marketing programs that exist in the internet marketing world.
Likewise Amazon and Flipkart affiliate marketing program, Cuelinks is also one such affiliate marketing program. But, for the eCommerce websites, Amazon and Flipkart are the major players.
I will not lie, I am one of the 1000s affiliate marketers who is earning a decent amount of money with eCommerce based affiliate programs.
I am using Amazon, Flipkart and  Cuelinks as well.
Bloggers or digital marketers who don't have knowledge about affiliate marketing has to use the affiliate links from the network. So, whenever a person will try to buy a product online using that affiliate link, it will earn you a commission.
These commissions are based on categories. Some of the networks pay commission on the basis of registration. As in Pay per Registration, Pay per Lead as well as Pay per Click, and Pay per Scale. Here we will talk especially about Pay per Scale.
I am sure this is going to be interesting for you, especially if you are willing to earn through these two affiliate programs.
So, guys let's start with the Affiliate programs of the day "Flipkart Vs Amazon".
Flipkart Vs Amazon Affiliate Program: An Overview
Flipkart Affiliate Program
The roots of India's first billion dollar company Flipkart can be traced back to a humble start-up. It was just an idea that sprouted to life from the two IIT engineers from Bangalore rose into the force to be reckoned with in the eCommerce industry- branching out across the country.
This revolution connected numerous Indians to online shopping.
Flipkart was launched in 2007 and soon became India's leading market place with over 80 million products across 80+ categories.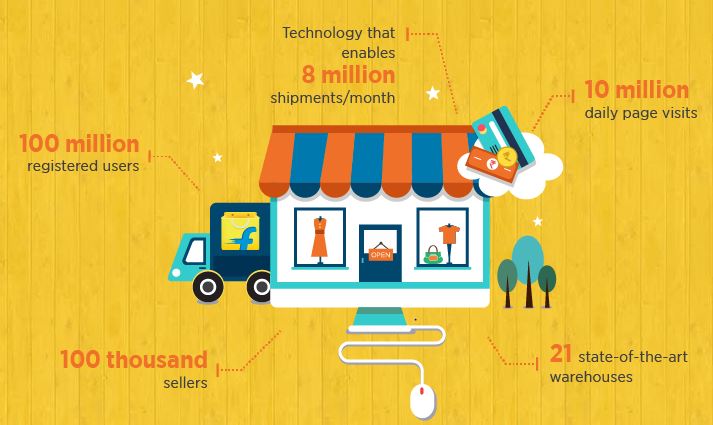 Well, be it a question of shopping, selling or affiliate marketing, Flipkart is one of the best online stores with its huge range of products and services across various categories. Such as:
Fashion
Electronics
Books
Automobile
Baby Care
Gaming
Home Decor
Sports
Many more…
A huge number of affiliate marketers have made tons of money while promoting Flipkart affiliate program on their website.
Well, if you wish to be a part of the Flipkart Affiliate Marketing Program, the process of getting started is very easy and simple.
You just need to register yourself and that too without any approval process.
Getting Started With Flipkart Affiliate Program
It is a very easy and simple process.
For this, you have to go to the Affiliate page of Flipkart. Click on "Join Now For Free".
You will be guided to the registration page of the Flipkart Affiliate Program.
Fill in all the details required, such as your Name, E-mail ID, Mobile number, and the most important one the URL of your website or the App you are owning. Lastly, click on "JOIN".
You will successfully be registered to the Flipkart Affiliate Program
This is a 2-minute content monetization process which helps you in monetizing your website easily. You will get the commission on the basis of the category of the product that a user purchases on Flipkart through your websites.
No approval required, that means you will get the approval instantly.
Amazon Affiliate Program
Amazon.com was founded by Jeff Bezos, on July 5, 1994. He started it as an online bookstore but later on it diversified to sell video downloads/streaming.
It is the largest eCommerce market place and cloud computing platform in the world as measured on the basis of revenue and capitalization.
Amazon is the largest internet company by revenue in the world and the second largest employer in the United States.
Amazon Associates was one of the first online affiliate marketing programs which were launched in the year 1996.
The Amazon Associates program has a record of developing solutions to help the website owners, Amazon sellers and web developers make money online.
By advertising millions of used and new products from Amazon.com and its subsidiaries, such as Endless.com and SmallParts.com, people are able to earn money online.
This can be done in a simple way. When the website owners and bloggers who all are associates create links and customers click through those links for making any kind of purchases, they are likely to earn referral fees.
Amazon Associate Program is free to join and easy to use.
A person can start with registering itself on Amazon.in. Unlike Flipkart an approval is required which is quite easy and simple, providing them with the Facebook fan page too.
[Here: We can see that both ways are simple and easy to register, but the conversion rate on Flipkart is much lower than the conversion rate on Amazon]
Flipkart Vs Amazon Affiliate Program: Pros and Cons
Flipkart Affiliate Program- PROS
When we talk about the commission rate of Flipkart, then the commission rate is good on some products, especially on gadgets.
As most Indians do online shopping using Flipkart, then we can say that the conversion rate of this network is also good.
CONS
Daily Tracking reports are not clear and proper. Articulation in the process is missing. In fact, you get the weekly, monthly and annual reports but not the daily reports.
The major drawback is that on Flipkart Affiliate Program, the earning which will keep you enthusiastic in the beginning will decrease later on as there might be some cancellations as well as back orders.
Amazon Affiliate Program: PROS
Unlike Flipkart, the daily tracking reports are sorted properly. You will be getting a report on all bases, whether daily, weekly or annually.
The best thing on the part of Amazon is that the earnings of only those orders which are delivered are shown.
The commission which is already credited in your account will not be deducted in the future, because of order cancellation etc.
You will feel edgy in the beginning because of less conversion rate, but as time passes on the conversion rate will start increasing.
[Here: The ball is in the court of Amazon. Amazon is a structured network and much better sorted. Flipkart needs to be improved in many aspects].
Flipkart Vs Amazon Affiliate Program: Commission Rates
Let's talk about Flipkart first. This will give you information about the commission rates both have charged recently and an idea to decide which one is better.
When talking about the commission rates of Flipkart, then it has been offering a very low rate of commission to its Affiliates. But, that was "once upon a time".
We all know that Flipkart is now a Walmart company. But initially, no changes were made in the commission rates of Flipkart Affiliate.
It used to pay a commission of 0.5% to 1%, for many electronic products and gadgets. But as soon as Amazon came into the market with its amazing commission structures, Flipkart significantly changed their commission structure. Yet Flipkart is no back.
This has made the competition tough for its rival, making it toughest for the bloggers to choose.
While many bloggers and webmasters were eagerly waiting for the Amazon to enter the Indian market, because of its commission structure, it became a boom for Indian Affiliate Market.
When Amazon.in was launched in India, consumers started receiving good deals. This is the reason why the bloggers and webmasters were eagerly waiting for the Amazon, as their commission structure is very good in USA and UK.
With no doubt at all, is the largest online market place in the world, Amazon is trusted all over the world.
In June 2013, Amazon launched its affiliate program for Indian publishers. Since then many bloggers have switched to Amazon.
Now, instead of promoting products on Flipkart with a low commission structure, publishers, bloggers and vloggers started promoting the products on Amazon with a much better commission structure.

Here I am presenting the comparison sheet of the commission structures, which are offered by both Amazon and Flipkart:
We can see that though Flipkart has increased its commission rates say up to 16 times they are still lower than the Amazon commission.
Flipkart gains an advantage only in the category of eBooks, where they are offering a 15% commission. While Amazon, on the other hand, is offering 0% commission for any eBook purchases for Kindle.
[Here: Even with the revised or new commission structure offered by Flipkart, it is still lower by 20% which the Amazon Associate is offering]
Flipkart Vs Amazon Affiliate Program: Payment Options
Are you working for free?
NA!!
Well, payment method or mode is an important part of any purchase or transaction done.
Till the time you don't make a payment or receive a payment for the purchases done, the transaction may not be considered as complete.
We didn't talk about the payment method yet. So, I think you may be curious to know about the ways the payment can be made while choosing any of the affiliate programs as in Amazon or Flipkart.
Flipkart pays commission to its affiliate partners depending upon the category of the products they have sold through their website.
Well, the Affiliates have an option of receiving payment through:
In the case of gift vouchers, Flipkart will accrue or withhold referral fees until you reach an amount of Rs 2500.
Gift Vouchers can be redeemed against the purchase from www.flipkart.com
In the case of EFT, the payment threshold is Rs 5000.
You have to understand that the referral fees will be processed as per the payment mode, which is selected by you in your affiliate account ("My Account" section). It will process on the 1st of every month.
Remember if in case you change your payment mode on 1st of a particular month, you will be getting the referral fees from the next month.
As Flikart.com has a 30-day cancellation or return policy. So, the payments are made after 30-60 days from the day when an order was made through your affiliate account.
If Flipkart owes their Affiliate less than Rs 2500 in case of Gift vouchers and Rs 5000 in case of EFT, then it is likely that they will process the balance it in the next month.
In fact, Flipkart does not charge any fee on any of the payment methods. However, they deduct 5% TDS for all the payments made through Electronic Fund Transfer.
Flipkart also deducts 5% TDS on Gift Vouchers as well. KYC is important these days in every field, so, if PAN is not provided by you then Flipkart will deduct 20% TDS.
You also get the real-time report that provides extensive data about the activities related to your links, conversions and performance across all categories. It empowers you to optimize your campaign performance.
Amazon Affiliate Payout Options
Amazon Associate Program pays you the advertising fees on monthly basis. That means you might get the payment or the advertising fees of the items sold through your affiliate links in approx. 60 days after the end of each month.
The Associate Program sends you the payments via Cheque at your registered address. They can also deposit your fees directly into your Bank A/c via National Electronic Fund Transfer (NEFT).
In case you are being paid via NEFT, the Associate Program will not send you the payment until you meet the minimum threshold of Rs 1000.
If in case you are paid via Cheque, Amazon will not send you the payment until the total amount due is at least Rs 2500.
Let's have a look at the Associates Program Advertising Fee Schedule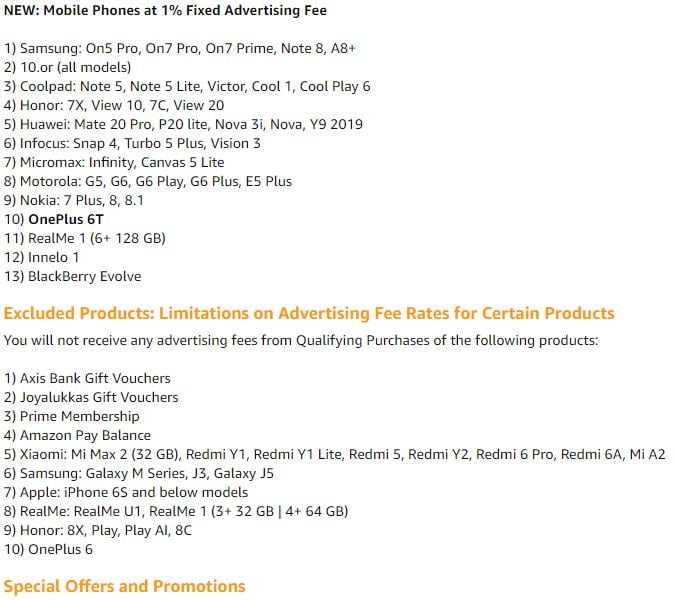 Unlike Flipkart Affiliate Program deducts 10% TDS, Amazon Associate Program does not charge VAT on your Associate's earnings.
[Here: Amazon plays a better role, as payment is made only after 60 days of each month. That means there is no deduction for the cancellations etc.]
Flipkart Vs Amazon- Which Affiliate Program Is Better?
I don't want to be biased. Here we have talked on all the important points pertaining to Flipkart Vs Amazon Affiliate Program.
I would suggest that you should for both the programs. See what matters are the commission.
No matter that Amazon Associate pays you better commission than the Flipkart Affiliate, it is of no use if your link is not converting to a sale.
According to me, if your product is sold on a lower price in Flipkart, no matter what is the commission rate, it is better to promote the link on it.
"Something Is Better Than Nothing". This fits better here!
I have worked out on some points while choosing the affiliate program to promote the product:
You have to keep this in mind that, if the rate of a particular brand is the same, then you should choose the one which offers you high commissions.
Just like it is the Amazon Associate Program in most of the cases.
Secondly, you have to track which eCommerce website is selling at lower prices, because it will have the highest chances of conversion.
Then you should go with the one offering low prices and best deals to its customers.
Flipkart Vs Amazon Affiliate Program: My Recommendation
There are so many aspects that made me consider Amazon Associate above Flipkart Affiliate. Here they are:
Though Amazon was a late entrant and Flipkart already had its affiliate image of more conversions and commissions yet the scenario changed soon.
As soon as Amazon grow as a brand in India with each passing year, the affiliate links that promoted Amazon's products generated more and more conversions.
If we talk about the commission rates then Amazon offers higher commission rates. Even the whole of the commission structure is better than that of Flipkart.
No doubt, Flipkart made tremendous changes in its commission structure. Still, it lags behind Amazon's commission structure.
The transaction reports offered by Flipkart are not sorted well. As they offer reports on a monthly and quarterly basis, which makes affiliates frustrating.
On the other hand, Amazon Associate's daily reports are well sorted which is extremely important for tracking purposes.
Amazon has build trust in Indian Affiliates, in a short span of time. Amazon's affiliates earn commissions on the basis of only those conversions that are not cancelled. This built trust among the affiliates that the report is not misleading as in case of Flipkart.
Here in the article above, I have tried my best to provide you with the exact information. I have also put my point of view while choosing the best Affiliate program for your website.
I am not saying that choosing the best affiliate program is the only way of earning passive income. There are other ways as well.
I would suggest you grab the opportunity of consuming all the offers provided to you.
If you are eager to know more about Amazon and how they do marketing, refer to our article.
I hope you have liked the article and satisfied with the information provided therein.
You are requested to make your query while filling the FORM or mail us at digitaldhairya.com
Please leave your comment below on Flipkart Vs Amazon Affiliate Program.
In Your Service
Dhairya Singh Chauhan