How to optimize Google My Business for More Sales
Can you believe me, a few days ago a phone book surprised me and it forced me to think.
Does it still exist?
The reason behind this is- around 60% of Indians use smartphones and tablets to search for products and services which are local.
That means information is at our fingertips.
Then, why do we need to look for a business' phone number in a phone book? It is available instantly when you find it with Google Search. That is why we are here to discuss how to optimize Google My Business for more sales.
Now, that is what happens when the tables are turned around.
The same scenario exists when you think from the perspective of a business owner.
You have to think, what your customers are finding when they search about you and your business online?
You should be ready with the general questions related to the business which customers may be looking for.
They might be looking for
Your business online
OR
They wanted to know the phone number so that they can access you immediately.
OR
Looking for the availability of parking, how will they find it out?
Remember this information should be available before they reach your website.
But the question is how?
You just need to enter Google My Business.
Google My Business (GMB) is a listing operation of your business or businesses information, posts, reviews etc.
This is true that this information is likely to be found on your website, but Google My Business indexes the content which you provide across Google Maps, Google+ and Google Search, for your consistency.
The whole motive is, when any customer will search for you, the information is already there for them.
Google My Business, when used correctly, is such a powerful tool that it can provide useful insights about your customers that are valuable and also can increase your revenue.
So, we are going to explain all and will tell you how to optimize Google My Business for more sales.
Before moving further towards our issue of searching for the answers on how to optimize Google my business for more sales, let's all discuss something important related to this.
Here we are going to discuss the mistakes that the business owners make with Google My Business.
Mistakes Made By Business Owner with Google My Business
We know that Google dominates search.
Approximately 80% of all the searches happen on Google- According to Net Marketshare.
That means there are around 3.5 billion searches per day and 1.2 trillion searches per year worldwide- According to Internet Live Stats.
Well, most of the people don't get the past Google's first page of search results. That means as the time passes on they are decreased to the second or third page on Google Search.
According to a study– the numbers of click-through on SEO-hacker have been examined for each Google search result. And it is noticed that the results exponentially decreased to page 2 or 3, of Google search.
Let's have a look.
In other words, we can say that the customers are finding what they are getting on the first page of the search result. That is why we are going to tell you how to optimize Google My Business for more sales, and this is so important.
We are not saying there is no other way to show up your business on Google's first page.
There are other ways as well to show up your business on the first page of Google.
But, Google My Business is incredibly an easy tool to use. It helps you to:
Gather insights on how your customers are arriving on your website.
Interact with potential customers.
Manage your online review reputation as well.
Display, control, and index of important and relevant business information.
Curate user-generated content, customer photos, and videos etc.
Google My Business is usually called Local SEO. That means the signals sent from Google My Business, also plays role in Local SEO Strategy as well. You can see here at Moz.com.
But, it is found that around 56% of local retailers have not yet claimed their free Google My Business account.
This is really surprising. You can see here.
According to LSA Insider– 
Well, you can use Google My Business in an easy way. A few steps are here.
To start with, just visit Google My Business 
In the next step, you have to input the basic information about your business i.e., name, address, phone number, website etc.
After you have typed the information about your business which has been asked to you. The next step is you need to verify your account. It is done by submitting a code that is sent to your business address via mail. This step is necessary in order to unlock all the Google My Business features.
Once your business information is added, you are ready to access your dashboard, so that you can start personalising your listing.
But, wait you are not done here.
Advice: – Don't Stop Here!
The biggest mistake what most business owners do is that they claim their Google Business account, add as many details as they want to, which are the bare minimum and then abandon it.
You should understand that they are leaving money on the table.
Remember- You need to optimize it!
The biggest question is how to optimize Google My Business for more sales.
Well, Google My Business can improve customer loyalty and increase sales as well, but, when used correctly.
Here we are going to jot down some steps which you may need to optimize it so that you will be able to make more and more money for your business.
So let's get started with this:
How to optimize Google My Business for more sales
Information should be accurate, up-to-date and comprehensive
There are different parts of the Google Business Listings.
We have to start with the core business information, such as:
Name
Address
Phone Number
Website
Attributes
Category
Description
This information will be used by Google+, Google Search and Google Maps, which may provide a foundation for your local SEO.
You have to make sure that the information given by you is exactly the same.
Any kind of consistency in the information will impact negatively on your search ranking. Some statistics from Search Engine Land is here, which cites that inconsistency is the No.1 issue which is affecting the local SEO.
You have to make sure that, when putting your address, it matches with the correct coordinates on the maps. It should include the same Zip Code as provided on your website.
In addition to this, you should have a local number, instead of using call centres or a national option.
Now, you have to focus on two very important listings i.e.,
Business category
Your company attributes
You should consider your keyword strategy when you are adding your business attributes and business category.
On one side, your category should be very specific, attributes can also give a clear picture of the business you are running and the experience you provide.
You should browse a complete list of business categories which are around 2,395, to make sure that you are able to provide a correct classification of your company.
Remember you cannot put "Cosmetology", when you are running a "Nail Salon".
Let us talk about attributes.
The attributes allow the business owners to expand their business capabilities. These capabilities are the ways might not be apparent from the business category you have selected.
Attributes may be added to answer the questions to your customers in order to provide a better understanding of the offerings and capabilities of the business.
For Example:
Is there any facility for free WiFi in your coffee shop?
What are the amenities provided in your apartment?
Is your restaurant kid friendly?
Ok, let's move on to the basic information, which your customers will look for.
Guess! What your customers will look for when searching for your business?
Answer- Your Profile Picture
Without a photo, I cannot imagine of completing any listing.
According to the Synup study- "listing with photos are considered 2x times reputable and also gets 35% more clicks".
Google My Business provides you with the feature of uploading a profile picture, cover photos and videos to showcase your business.
Not only you can upload high-quality content but you can also post user-generated content too.
You can upload your profile picture by selecting "Photos tagged of your business" option.
Upload photos of the interactions with the customers. You can also request customers to upload photos and videos of their interactions with the business.
Apart from this, you can request your customers to write about their experience with you too.
Can Ask For Reviews
Reviews are good for local search. That means
Good Reviews= more sales.
More good reviews= more and more sales.
But, this is also right that bad reviews can also provide you with opportunities.
Well, about 90% of people read reviews before purchasing anything.
But, that is not an end.
In fact, the frequencies of searches are also increasing. According to the study of 2016, it is found that "approximately 53% of the consumers search for local businesses for at least one time per month".
We can see that there is a 10% increase over 2015.
But, the question here is- "how can you get reviews from customers?"
Simple Answer- You ask them.
Though some sites discourage this, it is encouraged by Google My Business actively.
You can send a link to your customers in a few steps.
You have to open Google maps in a web browser.
In the top left corner, type in your company's name. This is again a good way to check whether your address is correct on the Google My Business dashboard.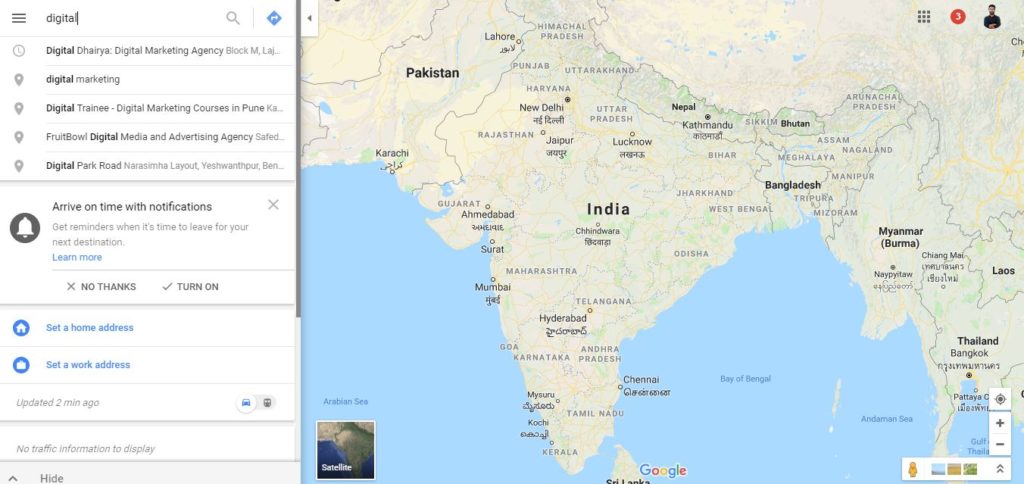 After doing this click on the menu option on the top left corner.
Now in the drop-down menu, click on "share or embed map" and copy the link.
Now, you can share the link with all the existing customers via mail or text.
As you start getting reviews from your customers, please respond to all of them.
No matter whether the review is good, bad or neutral, you need to respond to them.
The question is why?
Well, 44.6% of the people said they are likely to visit a business if the business owner responds to the negative reviews.
Well, if you are getting 5-star for your business, then you can take advantage of the opportunity to turn the customer into a supporter of your business.
You know, basically, this is called as customer service.
Use Google My Business messages to interact with the customers
If a customer doesn't find something on your listing or website, what will it do?
Obviously, they are going to contact you.
Now, the question is how?
Simple, your mobile number is already included in the Google My Business listing.
But, do you think, they really want to contact you via call.
A study, says that "90% of the business leads would likely to receive a text message rather than a phone call".
That is why we think, that mobile messaging is a highly effective part of your marketing strategy.
This can help in closing the sale and can lead to increased customer engagement.
Direct SMS messaging, has a higher conversion rate than mobile advertising- According to the studies of Text Local.
Only by activating Google My Business messaging feature, you can unlock the option to ask questions via SMS text for customers, directly from your Google My Business listing.
Just turn on "Turn on Messaging" feature in your Google My Business dashboard.
After doing this, you will be asked to put a phone number, it may be personal or any, through which you want to use to chat.
If you are not comfortable to use a personal number, there are numerous available options, which include Google Allo.
After adding the number, you will be verified with a code sent to you on your phone.
Now finally, you can add a message which can be a "Welcome Message". That means the users will receive this message when they will start messaging you.
And a "Thank You for Contacting Us. We will get back to you soon", can build strong relations between you and your customers.
This feature can foster a close relationship between your business and your customers. This can lead to increased sales as well as trust.
Share posts for business updates
Google has created an option to share news and updates, for those who are passively browsing.
Now, we have already told you how to manage user-generated content on Google My Business listing, we will now focus on the content you create.
Google My Business opened its feature of "Posts" to all business owners. This feature permits you to share content about your business in numerous ways.
For Example
Using a GIF to reveal a game-winning shot with your customers.
You can share a text update on the company advancement recently happened etc.
A Google post also allows you to add photos, GIFs, text and even a call-to-action button. This also includes:
Get Offer
Learn More
Reserve
Buy
Sign Up
Once you are verified with Google My Business account, your "Posts" option will be visible to you on the left-hand menu.
You can add text as well as visuals, after clicking "create post" option.
While you are creating a post, you should consider these points:
If the CTA button is not used, the entire post will be shown on the mobile.
Focus on sharing content that will engage your audience with the post, so don't use industry jargon. That means you have to speak directly to your audience.
Your image should be a high-quality representation of your business. The minimum dimension required is 400×300 pixels, because Google uses the 4:3 ratio.
The maximum words per posts are allowed by Google is 300 words. But only 60-70 words are visible on mobile and desktop display if CTA button is used.
It is always a good idea to set up UTM parameters for links as well, though Google provides insights and engagement metrics for each post.
Now, after you click "Publish", you will be able to check your post on the listing.
Remember Google posts disappear after a weak that is seven days unless you will set a time frame. That is why it is really important to be hyper-specific and timely while creating your posts.
Last but the least in the path of discussing how to optimize Google My Business for more sales is to track your customer paths through Google My Business Insights.
Track customer paths
It is important to measure the impact of the Google My Business listing, no matter whatever marketing tactic you are adopting.
Well, to help you with that Google has some inbuilt tools
Let's see what Google My Business insights can tell you:
It tells you the areas that your customers are living.
From where on Google your customers are finding your listing.
How your customers are finding your business.
The total number of phone calls and the time, when your customers are calling.
And, the actions that your customers are taking on your listing.
Let us start with how your customers are finding you?– the most important question.
They might be using two types of searches:
Discovery and
Direct
Discovery searches are when customers are searching for the type or category and not the name of the business in particular.
That means, a search is done by those people, who are not aware of our business or company.
Once you come to know how they are finding your Google My Business listing, you will definitely like to know that what they are doing with it.
Either requesting directions
OR
Tried calling you?
OR
Looking through your photos?
Well, Google My Business tracks all the actions taken by the user in their insights dashboard. This can help you to understand, what your customers are finding value in your listing.
Google also helps you to analyze your galley's photo views and also compare them to other businesses which are similar to yours.
The information which is gathered can be used to track the customers' conversion pat. It also provides you with a comprehensive understanding of your customers' actions before reaching your website.
This is all we have in how to optimize Google My Business for more sales.
Conclusion
This is true that there are numerous ways customers can find you and your business. But, there is no better way than Google Search. This is really a powerful gateway to your website.
Your customers are looking for you. Are you digitally ready?
Google My Business promotes important information about your business in front of the eyes of the potential customers, who may be looking for your product, service or your experience.
If you do not claim and optimize your Google My Business listing is something like saying-"No Thanks" to someone and something who is interested in offering you a free digital sign for your business.
It can help you with your Local SEO. That is why we have discussed how to optimize Google My Business for more sales. It also helps you with generating more revenue.
We hope you find the article about how to optimize Google My Business for more sales worth reading.
The biggest mistake that most of the business owners do is that they input minimum information that they want to but does not optimize it.
This is why it is necessary to read how to optimize Google My Business for more sales, to know the importance of optimizing it.
We will back with some more interesting topics for your benefit. Till then stay tuned to the best SEO books 2018.
For more queries please fill the FORM  here.
In Your Service
Dhairya Singh Chauhan